---
---
"It's never too late to retire early"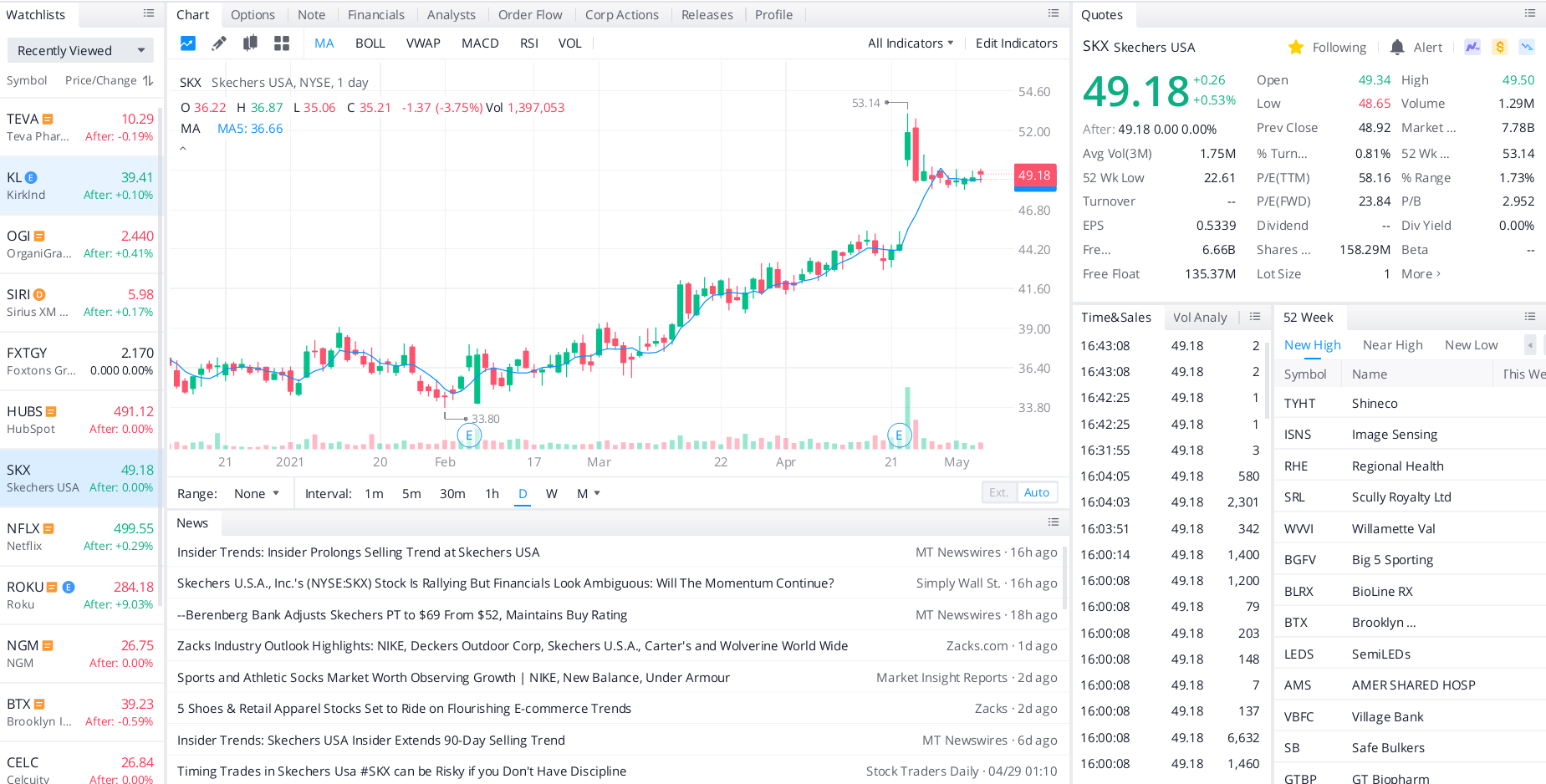 Unlike the likes of Nike, who have a bit of flash and dazzle about them, Skechers has stayed away from high-profile sports sponsorship deals or partnerships with Apple. Instead, they've focused on building a solid position in the market for themselves with the reputation for dependable, comfortable shoes that mightn't be the most stylish or fashionable but get the job done.
---
---
They developed a solid track record of growing revenue and EBITDA year over year through last January. With the world's economies closer to getting back to normal than they've been yet, odds are Skechers' management team will be keen to get back to standard operating procedure too. That means consistent results that should flow through to a well-performing stock price.
The stock gained 16% in April compared with a 5.2% spike in the S&P 500. The boost added to a significant rally for the footwear giant, which is up over 70% in the past year. The company projects sales to land around $5.8 billion this fiscal year, with roughly $1.5 billion of that haul coming in the current quarter. That Q2 result would mark an over 100% increase compared with a year earlier when lockdowns and social distancing efforts spurred a 42% slump. The scale of that growth rebound helps explain why investors remain optimistic about this business while consumer spending remains healthy.
If shares can maintain their current momentum and test the double top highs in the next few sessions, it should get interesting. At worst, they'll retreat before likely consolidating for another attempt, a great entry point to consider, or they'll smash through and leave it behind them as fresh support. Either way, SKX is worth keeping an eye on.
The profit potential for this is insane
Recommended Link:
Trading Opportunities Like This Are Exceptionally Rare
It's possible to make 100 times your average investment – rare events that Josh Martinez, a 10+ year expert market researcher, likes to call 'Heart Attack Paydays'.
Candidly, these events are exceptionally rare.
Like spotting a supernova – once every couple decades or so.
But when these opportunities appear, they tend to pay out BIG.
The last time Josh spotted an opportunity of this size, we were able to turn an initial deposit investment of $500 into $39,282!
Incredible right?
You'd be $38,782 RICHER today, right now, if you had followed these very specific instructions. No exaggeration.
Top headlines you shouldn't miss
Five apparel stocks set to ride on flourishing e-commerce trends
Four stocks to tap the rebounding apparel industry
Three stocks to buy and hold for the long term
Three ways greed could be your investing downfall
Four investing lessons the pandemic has taught us
These apps that will help you win the money game
---
It's never too late to start saving,
Gordon Fox
P.S.
Know someone who'd love the Never Too Late Investor? Be sure to send them to this link so they can get signed up: investinglate.com